For anyone using Betfair, the best betting exchange online developed by Racing Traders, using an effective bet management software is a no brainer.
But with all the countless options in the market to choose from, it's a tad bit difficult to choose the right one. In today's review I will be covering Bet Angel, arguably the first betting management software developed for the Betfair platform. In this review I'll be covering the following topics:
The standout features
User base and effectiveness
Subscription model and cost
Value for money and usability
Technical specs
What is Bet Angel for Betfair?
To put it simply, I would say Bet Angel for Betfair is like what spices are to chicken tikka masala- one compliments the other in a such a superb and complete manner that it's difficult to imagine one without the other once you have had a taste of it. Bet Angel is an independent software that is the brainchild of Peter Webb, one of Betfair's first clients to use the service that has changed the scene of organized and legitimate betting in the last two decades who launched it in 2005 after developing and refining it for personal use. What Bet Angel brings to the table is still unparallel to this day despite having countless low-quality imitations following its lead after launch.
Did you ever try your hand at day trading or have a passing interest on the subject? What Bet Angel does is take the different prediction tools of popular day-trading software like Meta Trader 5 and fuse it with the data obtained from Betfair's website for making bets more manageable as well as predictable using day-trading tools to make accurate assumptions, increasing your chances of winning a bet by allowing you to treat bets like Forex or commodities trade.
And my favorite part in all of this is the fact that it allows me to do so with the minimum fuss and confusion as Bet Angel has constantly kept itself updated with the latest developments in software and technology, making it my go-to tool for managing bets on Betfair. Analytical charts supported by constant data streaming helps keep everything in place, making it solid and dependable for people like me who like to dig in the data before making their move. Bet Angel can be integrated with Betfair with the simple API integration.
Who Uses Bet Angel?
Anyone and everyone who knows what Betfair is, and wants to improve their winning odds on the biggest bet exchange on the internet. Want to make betting a numbers game instead of blind luck? Bet Angel provides you with the tools to do so. Want to analyze the data from past bets in any of the major betting niches? Bet Angel has you covered. Want to set betting presets like a day trader's stop-loss signals so that you don't have to keep your eyes constantly glued on the monitor? Bet Angel makes that possible too with its Guardian feature.
Bet Angel is extremely user-friendly to newbies in the betting scene as its creator Paul Webb has made it one of his primary focuses to keep the interface of the software as clean and easy to understand as possible. Compared to the convoluted mess of complicated user interface and drops down menu's I had to deal with when it came to using other betting software in the market, getting used to Bet Angel was a breeze! Also, there is the fact that Bet Angel facilitates a wide variety of sports betting including tennis, horse racing, dog racing and more which are listed on the Bet Angel website. So no matter which corner of the globe you are from and whatever your preferred betting niche is, Bet Angel has something for everyone who is planning to make a bet through Betfair!
What features make Bet Angel Standout?
Quite a few of them actually! As I mentioned before, Bet Angel is a trailblazer for all the bet management software's that followed in the market after it and many of them offer similar features- but the difference is Bet Angels features are REALLY useful as proved by hundreds of users seeing success using the software. Let me give you a short rundown of some of the best features of Bet Angel.
Soccer Mystic: The crème-de-la-creme of Bet Angel, the Soccer Mystic is the standout feature of the software that I have yet to see in any other software competitor of Bet Angel. Soccer Mystic is the reason droves of soccer fans use Bet Angel and rave about it. This feature is basically a prediction tool that compares your chances of a bet against analyzed data of thousands of past soccer matches. It does this by predicting chances of success or loss after key points in a soccer game so that you can get a better idea of your odds according to the match performance While definitely not the perfect dream tool for betters as it all boils down to a guessing game, nonetheless, the numbers definitely helped me draw rough estimates on soccer bets better than anything else I have used.
Tennis Trader: Taking cue from its older brother Soccer Mystic, Tennis Trader also features similar prediction functionalities, except instead of soccer it's built for tennis betting. It's fairly useful, but not as strong as a tool as Soccer Mystic.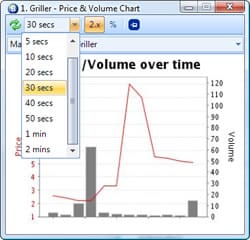 One-click betting: Akin to the popular Forex trading tool Meta-trader 5, the One-click betting feature of bet Angel allows traders to customize their bets with multiple indicators such as MACD, Oscillators as well as other trading tools. I found this really helpful as along with the bet customization features, it also allows me to set up and execute trades on the fly at the click of a button. Additionally, it also comes with a demo-mode for practice to hone your betting skills with this superb tool.  
Guardian watch list: One thing that bugged me while using other betting management tools is the fact that I constantly had to hop between multiple tabs to keep track of multiple trades. Bet Angel simplifies this with a simple trade window feature dubbed "Guardian". Not only can you keep track of multiple bets on a single sport, but multiple bets on multiple sports as well!   
User Manual for Bet Angel
I always believe that how useful an online tool will be for me depends on how easily I can understand and grasp the basics. For me, understanding the nitty-gritty features of Bet Angel was easy as a pie thanks to the simple but in-depth user manual. Why don't you give it a look yourself by check the comprehensive Bet Angel guide from here.
How Much Does Bet Angel Cost?
So now comes the million-dollar question that I'm sure has been spinning in your head since you started this review- how much is using this software going to cost me? It depends on which version of the software you're keen on using. Bet Angel has two subscription models; Bet Angel Trader which is the basic version and Bet Angel Professional which is the paid version. The basic version is a stripped down affair with only the one-click betting feature in place and will set you back by £60, £18, or £6 depending on whether you are going for the yearly, quarterly or monthly subscription. Bet Angel Professional has all the features that I have covered in this review and more that definitely make it worthwhile if you know what you are doing. It has more flexible subscription options than the basic version starting with an annual subscription of £149.99 to a daily one at £0.99 per day which I suspect will be the go-to subscription option for many of you if you want to test the waters first before committing to a full-fledged monthly or quarterly subscription.
Where to get Bet Angel Software Videos?
If reading long stretches of user manuals is not your way to learn things effectively (like me), fret not because Bet Angel has its own video channel on YouTube aptly named Bet Angel TV. I found that Peter Webb has painstakingly taken all the time and effort required to make Bet Angel as simplified and understandable as possible through the many tutorial videos, update reviews, bet setups and more. Bet Angel TV is robust and brimming with about a decade's worth of content personalized by the experience and professionalism of Paul Webb himself. Webb also interacts with the comments left on the videos, so if you feel particularly confused about something in the more latest content on the channel, feel free to drop a question in the comments section! In addition to, there is also the Bet Angel Academy on the official bet Angel website that can help you understand and utilize these tools better through selected videos from the channel.
Tech specs and requirements
Bet Angel runs best on Windows OS (7, 8, 10) but there are also ways to tweak it for Mac OS as well, so either way both OS users can run it comfortably on their machines with relative ease as long as they have the following hardware specs:
1.5  Intel or AMD processor minimum
1 GB RAM minimum
50 MB hard disk space
Software Verdict/Conclusion
My verdict? Bet Angel is the most comprehensive and robust companion to Betfair that I have come across all my years using online trading tools. The features are nifty and functional and provide you with a subtle edge when predicting games and scores with relative ease which most of Bet Angel's competitors offer but fail to provide. If you are looking to make the big bucks on your Betfair bets and have the skills and tenacity to pull it off, I will recommend Bet Angel whole-heartedly whether you are using the basic or professional version of the software.