"This is an excellent read about his outlook on life and what he has had to go through, along with looking back at his best times in the saddle."
Review: Taking My Time by George Baker
Overall rating: 9/10
Verdict:
George Baker had his whole riding career ahead of him, only to meet with bad luck. He suffered a head injury that meant he had to retire too early, but he never lost his spirit and love for the racing game. This is an excellent read about his outlook on life and what he has had to go through, along with looking back at his best times in the saddle.
For anyone suffering from a head injury, this is also a brilliant book to read. It's not just for racing fans, this book will appeal to many. George is, and always was, one of the good guys in racing and this book is an inspirational read on how he is rebuilding his life after one of the biggest setbacks a person can face in life.
We give this book an overall rating of 9/10. It's hard not to be fascinated by the story of George Baker and what happened to him. He was a classic winning rider, who always suffered from his weight because of his height, but loved his sport. It's very sad what happened to him, however, it's inspiring to read his outlook on life.
Positive Points: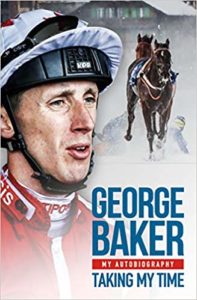 An inspirational read for anyone suffering from head injuries
A great look back at George's career in the saddle
Very well written and easy to read
Negative Points:
A little bit repetitive in places
This Book is Recommended For…
We recommended this book for anyone who loves racing, enjoys any sport or anyone who has suffered a major setback in life. Not too many books are inspirational in racing, but this is one of them. While George Baker may not have been the biggest star in racing, he had all the talent in the world – only held back by his weight.
It's terrible what happened to him but he comes across as a very positive person in this book. Racing fans will love this book, and perhaps it's a little reminder about what risks those jockeys take day after day for our enjoyment or a brilliant sport.
Where to get Taking My Time by George Baker…
Amazon is the best and easiest place to get this book.
Formats available: Paperback | Digital (via Kindle).
Purchase: Taking My Time by George Baker
More on OddsCart:
Readers who showed an interest in this book read the following articles:
Secrets of Pricewise | Sure Thing: Greatest Coup in Racing | Gambling for Life: Harry Findlay